Best SEO Content Creation Tools 2021: List Of Free and Paid Tools
2020 is past us and thus the earlier used content creation tools might not be effective or some have upgraded in order to run parallel to the algorithm changes and trend changes in 2021. Writing SEO optimized content is not a piece of cake but it is also not an impossible task. Thus, you must create the best SEO content for your website to drive more traffic and increase your sales and revenue.
There are various tools available online, both free and paid, in order to create the best SEO content.
Some of the Free and Paid Tools for Best SEO Content Creation Tools 2021 are: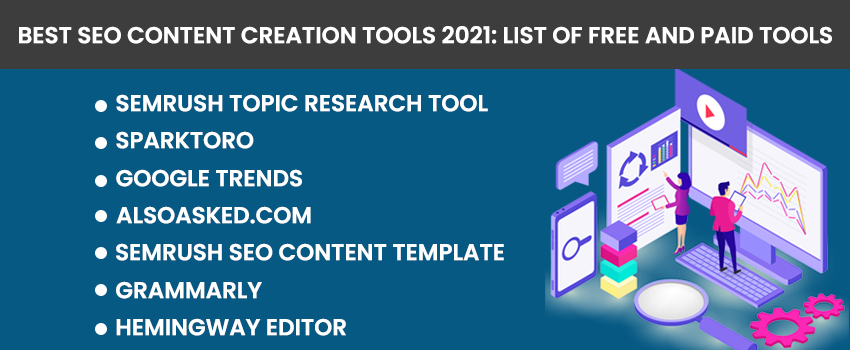 SEMrush Topic Research Tool
Before writing content, you need to work upon a topic and that takes up most of the time for any writer. Thus, topic research from this SEMrush website helps in understanding the trendy aspects of your business so that you can relate to the present user intent. It makes topi search easy, quick, and efficient. You will be filled with potential ideas for your concerned topics.
SparkToro
It is important to understand what your audience wants when they read about your brand or services. Therefore, you must focus on creating content that is actually searched, watched, read, and preferred by the visitors. And, the best tool that can help you understand the behavior of the consumer is SparkToro.
Google Trends
This is another Free tool for learning about recent and upcoming trends. You can look for the best keywords, and thus create content effectively. If you take advantage of the ideas you get on the analysis from Google Trends, you will be able to rank better on the SERP page of the search engine.
AlsoAsked.com
Have you seen the people also searched for or people also asked for sections? This also gives you an idea about the most searched terms upon which you can brainstorm and create content based on those notions. Alsoasked.com is another Free platform for you to explore and take advantage of the user intent. You will get data about the long-tail searches.
SEMrush SEO Content Template
When one writes for SEO, the content should not be just written blindly. Instead, a proper framework with the inclusion of the right and enough keywords should be made in order to rank well. This is a paid tool where you can easily create content as you will get the best content creation template for you to make the writing task comparatively structured and easier than earlier. They will help you analyze how to write and what to write in order to rank at the top in the search engine results page.
Grammarly
Another tool that can help in both paid and free versions. This tool is best after writing content. It helps you to keep the grammar in check, check plagiarism and other mistakes that your content should not have. In the free version, you have limited access but if you get the paid version, you will be able to create the best content for your concerned website. You can set the tone of the content and you will get suggestions for correction accordingly.
Hemingway Editor
This app makes your writing bold and clear. Moreover, Hemingway Editor helps you in creating content that is informative with short sentences and readability is at its best. This is a Free tool, so you must take advantage of this app and make your content the best for your website. This is a web application that can be used anytime after writing the content and in seconds you will be ready to share the content with your readers.
Are you looking for Best SEO Content Creation Tools for 2021 or Windsor SEO Company? Contact FireStartup today to get the best SEO content. The professionals are skilled and experienced to provide you the best and SEO optimized content for your website and social media.