WordPress Website Security Guide 2020
Protecting your website from every malicious activity is easier than ever before. There are multiple plugins which save you from brute force and other attacks on your website.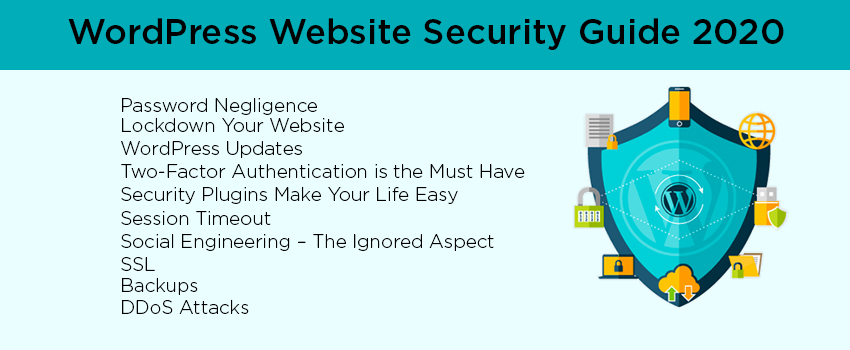 Most of the cases of security lapse are not connected to your code but your day to day behaviour which could be a loophole if someone tries to access your website without authorizations.
Let's discuss some tips and tricks to enhance the security of your website and enjoy business without being worried about any security lapse.
Password Negligence
Using a password to your dashboards like "123456" or your lover's name could land you in trouble. These passwords are easily cracked using a simple brute force attack of hit and trial.
Always use the alphanumeric password with a special symbol.
Our Username should not be "Admin" or something that common.
Never share your password or write down on the piece of paper.
These suggestions may seem obvious but account for most of the reasons for the attack on your website.
Lockdown Your Website
Brute force attack could be dealt with locking down the users making multiple attempts to log in. This could help increase the security of your website making difficult to crack the password for a safe passage.
It could be optimized using multiple plugins.
Hardcoded lockdown security could also be used to solve the purpose.
WordPress Updates
WordPress pushes many updates to help you optimize your website, these updates should be installed readily to your website.
Security updates give security from new Trojans and viruses.
Malicious code is regularly dealt with to make your website is up to date.
There are multiple backdoors available for troubleshooting, these updates let you secure your website from such attempts.
Two-Factor Authentication is the Must Have
This feature is available on the login page which lets the users go through double security check every time they log in.
It is easily customizable as per the administrator's requirements.
Syncs with Google Authenticator App to make two-factor efficient and quick.
Secret questions could also be used for double-checking the authenticity.
Security Plugins Make Your Life Easy
WordPress plugins are a lot talked about by online marketers as they are super easy to install and solve many purposes of your online needs.
iThemes security plugin helps you optimize the security of your attack
Helps you protect your website from any malicious code.
Locking users out of the website could be performed and customized specifically to your needs.
Google Authenticator plugin is also available to make your life flawless with the security of the website.
Session Timeout
Adding this feature to your website could save you a lot of time and effort.
It will log the user out once it remains idle for the specific amount of time.
Its gives an added layer of security as idle login times create a lot of loopholes
It becomes easy to alter the information if there is no time for the session to automatically log you out.
Social Engineering – The Ignored Aspect
More than technical loopholes there are social loopholes present which help the hackers exploit your negligence.
Logging in from the public computer poses risks of this kind.
Writing down your username and password somewhere could lead to stolen credentials.
You can't just hand over the password to your friend in any case.
Many call you and say they are from WordPress and demand your password for additional features, never share your passwords with anyone of that kind.
Maintaining the distance with people in terms of login credentials and handling it with utmost security is the biggest boost you can offer to your website and your customers.
SSL
Security Socket Layer is now so popular due to the specific reasons and the features it brings on the table.
SSL certificate makes sure the data is transferred with integrity between the servers.
Monitoring of the data flow becomes quite difficult if you have this certificate in the operation.
Encryption of data is done and many third parties offer you SSL services to help keep your online space safe.
Backups
Regularly backing up of your data to a different server is the smartest move any digital market makes.
Usually ignored, if your website is compromised there is no way to get your data back without a backup.
It won't save your website from hackers but will save a hell lot of effort you may put to get up and running once again after the attack.
Using your valuable data once and for all could be the biggest nightmare after a security breach, you don't want to go down that lane, so better backup.
DDoS Attacks
Distributed denial of service is the easier and indirect way of taking your website down.
When the hacker is not able to surpass the security, the attempt is to attack your servers by overloading with an enormous amount of data which never comes from the real users.
Using Google Recaptcha to eradicate the bots should be done.
Never allow them to upload the files more than the specified size in your interaction forms
Many third parties allow solutions to help you with the malicious downtime, you may leverage those services too.
Final Take
More than equipped hackers your lame and careless behaviour compromises the website. One needs not to be a tech-wizard to secure the website, your social behaviour largely defines the security of your website and the users accessing the same.