Want to Boost The Conversion Rate of Your e-Commerce Site? Read on These Website Tips
According to a recent research, around 95% of the total marketing budget is being spent to drive more traffic to the website, while not many resources are being utilized to conversion optimization. Meaning, that 100% efforts are put to attract more and more visitors to the website, but not enough is done to ensure that the visitors stay and become customers.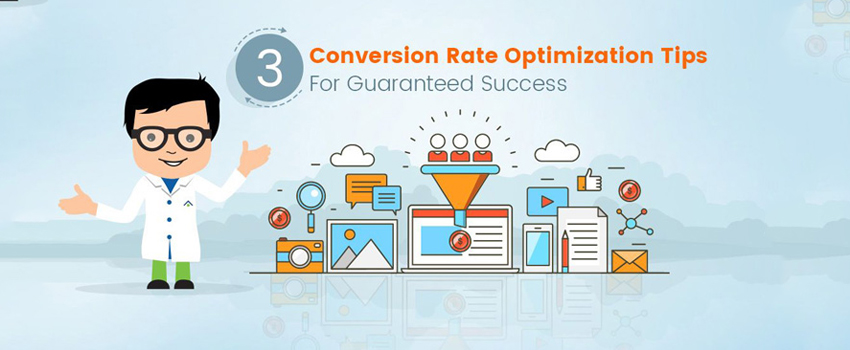 What focus on Conversion Rates
It is sad that businesses fail to understand that a top ranked website is absolutely of no use, if the page is not optimized well and it drives visitors away. This is just the wastage of money and time on the campaign, nothing else. Every e-Commerce website should keep in mind the following tips to improve their conversion rates.
Simple & Precise Design
Clean and clutter-free design is the key. It has maximum impact on the visitors. When the user is able to find the needed information without looking here and there, it enhances the chances that they will make a purchase. That's why, focus on the products and display, use high quality images and keep the information at the right place.
Feature Promotions on the Homepage
Customers prefer online shopping because they can find heavy discounts on their purchase. So, if you have something to offer to your customers, keep it on the homepage. Make sure you use such font or color that draw attention of the users to the promotion.
Easy and Intuitive Navigation
Always keep the navigation and layout simple and understandable. Give proper directions so that your customers can explore the website without much hassle. A search tool can help buyers reach the product faster. Keep the product categories clear and organized so that they can switch from one page to another with ease.
Keep Pricing and Shipping Details Clear
Price is the foremost thing that buyers will see. So, keep it clear and upfront. Don't try to hide the shipping charges as it puts a negative impact on the visitors. Pricing and shipping charges much be mentioned in the product page. Give your customers the freedom to make an informed decision. This will encourage the visitors to become your buyers.
Design an Attractive Add to Cart Button
An inviting and noticeable call to action is must. Keep the button large, bright and place text such as 'add to cart' or 'buy now'. This way your customers will be encourage to take the next very important step i.e. to make a purchase.
These few simple tips can significantly improve your conversion rates. For E-commerce store designing and development, you can contact our designers at Fire Startup. Delivering amazing E-commerce stores that actually SELL is our forte.