Top 10 digital marketing tip and tricks to attract more clients
In an era where you can't live without the internet, digital marketing is a must, to increase your business in size and volume. Digital marketing has been the choice of millennials and businesses have flourished under them.
Whether you own a small business or you have an established brand, digital marketing is the best option to make more clients within a fraction of the time and less investment.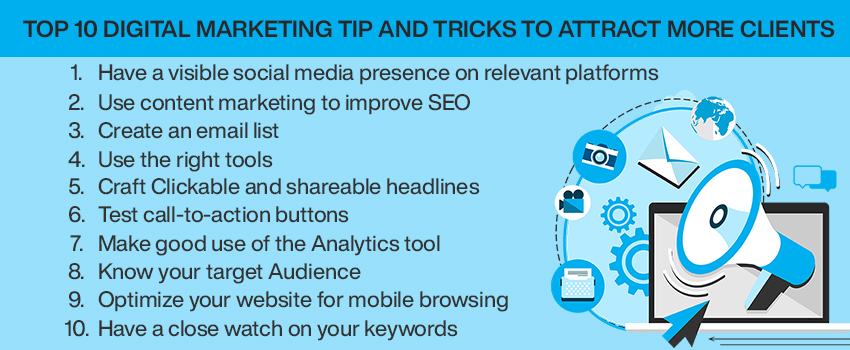 Over the years, the way digital marketing has changed, trends have changed and so did the use of the internet. Fire Startup provides a full sitemap for digital marketing and content marketing. Due to more than enough information, anyone can do digital marketing but there are a few tips and tricks that will stand you out from the competition. Researchers at Fire Startup have found 10 latest digital marketing tips to help you make it big in the online world.
Have a visible social media presence on relevant platforms

Social media is a very powerful tool for digital marketing. 50% of the total users on the internet are active on social media and if you properly use digital marketing tools there, you can have a large client base. The trick is "less is more". This means you need not be present on every social media, but the ones where you have your target audience.

Use content marketing to improve SEO

Web2.0 submission has given us a great way to combine out SEO strategies with content marketing. Writing blogs, queries, and informative articles on prominent websites and social media and gaining backlinks can help you get a big client base. Content marketing is quite simple and requires less capital investment. You just need to have relevant content on specific websites.

Create an email list

The first thing to do when you start digital marketing is making an email list of website visitors. Making an email list is very easy and users have no hesitation in disclosing their email address to a trusted site. Email can help you reach more people. You can promote your products, websites, blogs, and what not through email specific campaigns.

Use the right tools

The secret behind being successful in digital marketing is, making the use of the right tools. Google Analytics, search console, KW keyword finder, SEMrush are a few of many SEO tools present on the internet that give a great and meaningful insight on your website to make content specific campaigns and target audience/visitors.

Craft Clickable and shareable headlines

Digital marketing means making content that attracts people and compels them to at least take a look, anyone trying digital marketing should keep in mind that headings matter a lot. You should focus on a catchy heading that takes visitors to your site.

Test call-to-action buttons

Call-to-action buttons are very important in content marketing. These buttons make an article effective and keep the visitors engaged. Call-to-action buttons make a whole lot of difference to your client Acquisition rate. They act as a tipping point between bounce and conversion.

Make good use of the Analytics tool

Fire Startup suggests the use of some of the best analytics tools such as google analytics, SEMrush, Woo rank, etc. To give you proper insights into your website.

Know your target Audience

Once you use proper analytics tools, you will have a good insight into your target audience and you can make audience-specific ad campaigns that will increase your client base. You should know who your clients are before you market your product to them. Ignoring the target audience is the biggest mistake anyone can make.

Optimize your website for mobile browsing

Unlike the last decade, mobile has become the go-to device for surfing the internet and analytics can prove that. Around 70% of users visiting any website are from mobile and if your website is not mobile friendly, then you may lose many potential customers.

Have a close watch on your keywords

Google's algorithm for search result rank greatly depends on relevant and unique keywords, and you can use SEO tools to keep a close watch at it. This simple step can increase your organic reach.
Digital Marketing is included in every business today. Every company is using these techniques to grow their business. But it needs a proper strategy to use these digital marketing tricks to get the desired result. Contact us today to know more about these techniques.