How to convert your store into an eStore
With huge advancements in technology in recent times, everything is going Digital. From buying groceries to booking a doctor's appointment, you can do everything online these days. Everyone is trying their best to catch up with these fast-paced advancements in technology. The businesses existing online have proven to be better than the ones exiting offline. Let us further discuss the benefits of converting your offline store into an online store and how should you do it.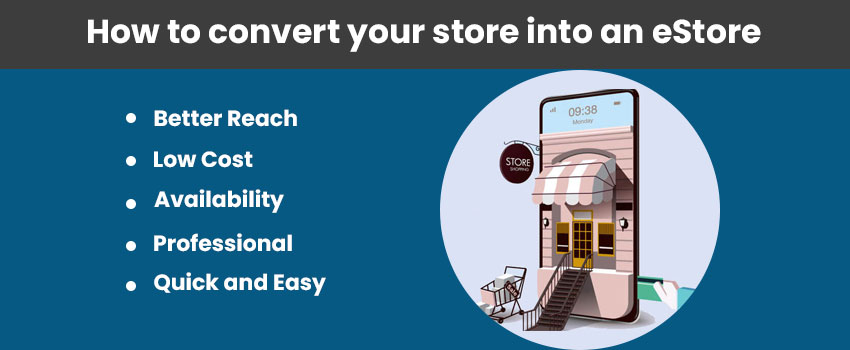 Better Reach: A business set online has a better reach than a business existing offline. An eStore can be accessed and shopped from Globally whereas an offline store is just at one place and has narrower range.
Low Cost: The cost of maintaining an eStore is very less and even requires very less or minimal costs to set up.
Availability: Your eStore once online is available to shop from 24 hours and 7 days.
Professional: Owning an eStore bring out the professionalism in your business and increases the brand value of your business
Quick and Easy: An eStore is quick and easy to set up.
Now that we have discussed the benefits of converting your store to an eStore let us discuss how to set up your business online. To set up an eStore you first need to create an eCommerce website. An ecommerce website is the link between you and your customers. You will upload and advertise about your products on your ecommerce website and your customers can decide and order through it.
There are some perquisites required before you start with your eStore. First of all, you need to come up with a good domain name. A Domain name must be short, easy to spell and easy to access as it will be the entry to your eStore. After you have decided your Domain name you need to purchase a host for your website. Although, there are some basic, free websites to use but your business will include money transactions as well so you and your money is secured you should opt for some trusted web host. There are certain trust worthy web hosts available in the market but one of the most famous and preferred by most of the businesses is WordPress.
Now is the step to create a very interesting and engaging interface for your ecommerce website. An interesting and easy to access interface is very important as a customer will only return again to your eStore if his experience of ordering from your eStore is flawless and without any hassle. This further boosts the sales of your business.
To complete the above step, you might need a little knowledge of Web Development and coding. To tackle this problem there are various Companies set up all around the world providing help to the offline businesses set up their respective eStores and grow their businesses.
It is not possible for everyone to learn coding or web Development; these Companies provide help in eCommerce website Development to such businesses. One such very famous and trustworthy Company is Firestartup, set up in Windsor who are helping the business owners with low or very less knowledge about website development.
Conclusion
Without any cons of any sort and with a lot of benefits an eStore outperforms any offline store in all levels of businesses. There is unlimited potential to an online business compared to an offline store. Just set up an ecommerce website for your business for your existing and potential customers and you are good to go.
If you are someone having no prior knowledge of website Development or coding of any sorts The Firestartup company is here for your rescue. Just at very minimal costs they will help you in your ecommerce website development and help your business grow to new heights. With their twenty-four hours support and trained executives you will never face any issue with your eCommerce website.